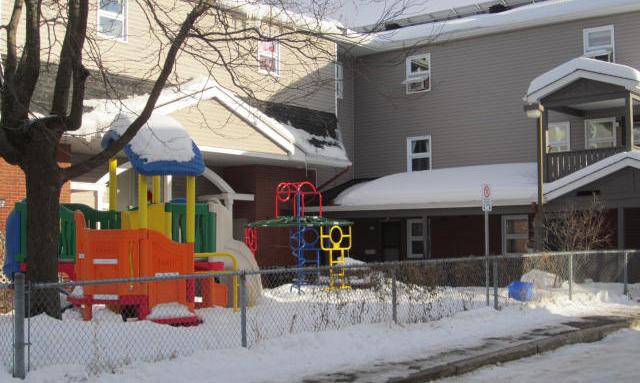 Better Living Residential Co-operative
Better Living Residential Co-operative is a caring, family-oriented community. There are 50 stacked townhouses; 2, 3 and 4 bedroom units, 2 of which are wheelchair accessible.
The co-op is a short walk to the St-Laurent Shopping Centre and Gloucester Mall. There is easy access to OC Transpo, the Aviation Parkway, and the Queensway.
The co-op has a laundry room, a beautiful new play area for children and a meeting room that is available to members for their private use, and it is also well-used for community pot lucks and meetings. There is also a large park next door to the co-op and a community centre close by.
Co-operation among Co-operatives: Creating Solar Power!
Better Living Residential Co-operative partnered with the Ottawa Renewable Energy Co-op (OREC) to install solar panels at their Co-op. The solar panel system will produce 10kW of AC power and feed power to the Ottawa grid under already approved MicroFIT feed in tariff contracts between Better Living Co-op and the Ontario Power Authority. The MicroFIT system was built for OREC by Visio Energy Inc. OREC is leasing roof space from Better Living Co-op for the solar system, which provides much needed revenue for the Co-op, and OREC will receive the revenue from the sale of power.
One more way that Better Living Co-op Members are demonstrating their commitment to the environment and creating a sustainable future!
Contact:
13-1350 Ogilvie Road
Gloucester, Ontario
K1J 9L2
Phone: (613) 748-1062
Fax: (613) 748-3403
Email: betterlivingcoop@bellnet.ca